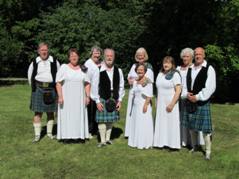 The Demonstration Team is a group of dancers from the Winnipeg Branch whose purpose is to spread the joy of Scottish Country dancing to the community. Grouped in sets of three or four couples, the dancers weave intricate patterns with lively steps and formations. Their colourful costumes feature a variety of tartans, including men's kilts in formal and casual styles, full length ladies kilted skirts and tartan sashes or overskirts over long white dresses. The lively music of Scotland with fiddle and accordion inspires the dancers and delights a toe-tapping audience.

Our Demonstration Team regularly performs at city festivals, street parties, seniors' homes and service clubs, and at rural events such as the Selkirk Highland Games, Bands on the Boardwalk in Winnipeg Beach, Altona Sunflower Festival and Festival of Nations. Dancers have performed with the Winnipeg Symphony Orchestra, at the opening of the Pan American Games, at the Lieutenant Governor's Levee and can be seen at the Scottish Pavilion during Folklorama. More recently, they have performed at Lower Fort Garry on Victoria Day and Canada Day. In fact, the Dancers were awarded a certificate of appreciation for our years of volunteering at the Fort.
The Demo Team has also danced at the Lyric Theatre in Assiniboine Park. In 2003, they were part of the entertainment package at the World Curling held in Winnipeg.
Performances range from traditional reels and jigs, to the elegant strathspey, a dance form unique to Scotland. If appropriate, the audience can be involved in simple participation dances. When requested, on occasion, the group can include a harpist, flutist, accordion player or singer.
If you would like more information on how you can book the Demonstration Team to perform for your organization or at your function, just contact us.
Schedule of Demonstrations
| When | Details |
| --- | --- |
| April 2013 | Tartan Day, Forks, Winnipeg |
| June 2013 | Highland Gathering Selkirk |
| August 2013 | Pavilion of Scotland Folklorama |
| October 2013 | Lindenwood Terrace |
| Dec. 2013 | McClure House |